We recently launched the latest release of Enterprise 21 – Enterprise 21 7.1 – and all of us at TGI are really excited about it. Enterprise 21 7.1 has some great new features that can be deployed throughout the organization for enhanced usability for the end user, as well as updates to Enterprise 21's workbench technology, which allows end users to create their own inquiry screens without any modification to the application's source code. So, what specifically are some of the new features in Enterprise 21 7.1? Read More…
A sample option for reports. Have you ever run a report only to find out it wasn't the report you wanted in the first place? The "Sample" button helps prevent this problem by allowing users to get a preview of the report they are about to run.

System-wide search functionality. In Enterprise 21 7.1, users can search for programs and screens within the application and be taken directly to that screen from the search results, allowing for quick navigation to a program, screen, workbench, etc.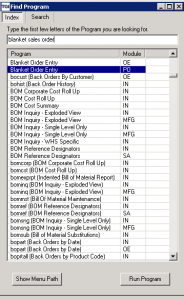 Intelligent hot buttons. The hot buttons in Enterprise 21 can be set up on a screen-by-screen basis. Hot buttons can be global in nature across all users, applicable to specific groups of users, or unique by individual user. Users can set up as many hot buttons as they like for any screen. The hot buttons allow users to move from one screen in Enterprise 21 to any other screen in the system with a single click. More importantly, Enterprise 21 knows the information content in common between the two screens – the screen the user is on and the screen the user is going to. From the product master screen, for example, a user could click on an available inventory hot button to view the real-time inventory status for that item at each of the organization's facilities and inventory that is in transit between facilities.

A complete document management system. Enterprise 21 7.1 allows users to attach an infinite number of documents to individual sales orders, purchase orders, customers, products, etc. These documents can include invoices, certificates of analysis (COA's), spec sheets, product images, import declaration documents, and pretty much anything else. These "documents" can also be in the form of HTML links to a given web page. A wholesale distributor, for example, may have a supplier who provides product information on its website and set up a link to the web page containing that product information from within Enterprise 21.

Paperless AP. A great new feature in 7.1 is paperless accounts payable functionality. This functionality can enable a manufacturer's or distributor's accounts payable department to operate in a completely paperless environment, allowing for reduced overhead expenses and streamlined payables operations. As long as the organization has a document scanner, adequate electronic storage space, and Enterprise 21, it is ready to adopt Paperless AP.
Updates to the Enterprise 21 Workbench Designer. One of the most positively received new features at TGI's Annual Users' Conference in May 2009 was the Enterprise 21 Workbench Designer. The Workbench Designer allows end users to create their own inquiry screens, programs, and graphical reports using a WYSIWYG editor. For a demonstration of Enterprise 21's Workbench Designer, please click here.
These are just a few of the new features in Enterprise 21 7.1. To request a formal demonstration of Enterprise 21 7.1 that focuses on your organization's specific business software requirements, please visit TGI's online request form or call us directly at 800-837-0028.
Tags: ERP Software