Global Chemical Resources Finds New Growth and Efficiency with Enterprise 21 ERP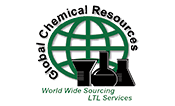 Case Highlights
Industry:
Chemicals
Challenges
Lack of organization-wide visibility to real-time business information
Excessive paperwork and duplicate data entry in multiple systems
No forecasting and/or inventory planning tools in place
Unable to grow revenues without adding staff to handle increased paperwork as a result of increased sales volumes
Solution
Results
Real-time business information across all departments and users
Increased revenues by 35% while reducing overhead staff
Reduced on-hand inventory carrying costs by 31% while increasing sales revenues
Improved cash flow by reducing the number of customers with past due accounts as a result of sales rep visibility to real-time customer AR information
When Joe Bruzdzinski, Jr. arrived at Global Chemical Resources to take over the family business he had a vision: to grow the business into one of the nation's premier chemical distributors while simultaneously leveraging technology to facilitate rapid growth. Describing the state of the company's prior information systems, Bruzdzinkski notes, "We had a rather simple system for organizing paperwork, documents, and shipping records. Basically, we had a combination of file folders for orders, Excel sheets for tracking inventory, and QuickBooks for accounting. It worked fine in our early stages, but due to growth it became apparent that some sort of ERP software system was needed to keep us organized and efficient." Read More...
Recognizing a strong need for a newer, more integrated information system, Joe and his colleagues at Global Chemical engaged in an ERP selection process to find the best chemical distribution software system for their business. Bruzdzinksi continues, "We wanted to limit internal phone calls and emails that were intended to access information such as order status, inventory levels, costs, open AR, etc. We also wanted to grow our revenues without having to add support staff to deal with the paperwork."

After an extensive software search, Bruzdzinki and his colleagues selected TGI's Enterprise 21 ERP system for its broad scope of software functionality. Delivering fully-integrated order management, inventory control, financial management, and a complete warehouse management system, Enterprise 21 enabled Global Chemical to consolidate its business information into a single system while streamlining operations. "We wanted something that was going to be scalable. Our business model is continuously evolving, and we needed an ERP system that was flexible enough to evolve with us and be scalable to whatever size we grow to."

Through implementation of Enterprise 21, Global Chemical has been able to increase revenues significantly without a proportional increase in overhead while simultaneously improving the service they deliver to their customers. "Our sales team has much quicker response times because they have information regarding product costs and inventory at their fingertips rather than having to make phone calls to our central office." Moreover, the system has delivered significant cost savings and contributed to the company's bottom line performance in a dramatic way. Bruzdzinksi explains, "We have grown our revenues by 35% since implementation and have actually been able to decrease our customer service staff by two full time employees. We are able to lean up inventories by identifying slow moving inventory and adjusting re-order points. In the last seven months, we've been able to decrease our total inventory value by over 31% while increasing sales out of those inventories. Also, because customer AR information is readily available for sales representatives, they are able to help keep our customers current. Our past due account percentage has moved from 35% at the time of implementation to under 18% today. This, coupled with the reduced inventory, has really helped our cash flow."

Equally important to having selected the right ERP system for its business, Joe and his colleagues at Global Chemical feel they have found the right ERP company and business partner in TGI. Describing his experience working with TGI staff, Bruzdzinksi concludes, "The personal attention and customer service has been the one thing that has separated TGI from all of their competitors. Every software company has a software system that they feel works well and can do everything we need it to do. However, not everyone has programmers readily available on their customer service line. Almost all of our support calls are handled in one call without ever being put on hold. This is definitely not the norm in the software industry right now, and TGI has been refreshing to work with."
---
About Global Chemical Resources
Global Chemical Resources is a full service chemical distributor that specializes in importing, stocking, distributing, packaging, and handling of a very wide spectrum of chemicals. For additional information, please visit www.globalchemicalresources.com.