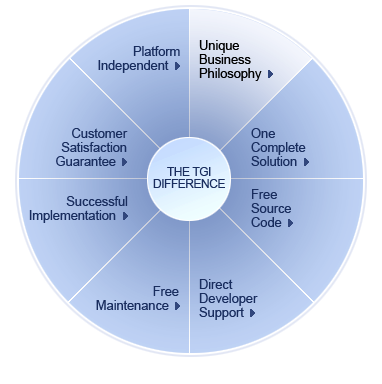 Technology Group International is not your typical ERP company. We have a firm belief in encouraging our new business prospects to compare our company and our product to the competition in an analytical, systematic manner, thus allowing the prospect to choose the ERP software vendor with the best functional and organizational fit for their business. TGI has 100% confidence in our award-winning Enterprise 21 ERP software. We do not believe in "selling" our customers software; rather, we encourage our prospects to evaluate and select our software because of Enterprise 21's superior functionality and because it is the best fit for their specific business needs. Read More...
One of TGI's primary objectives as an organization is to have our customers view us as a strategic partner, rather than simply as their ERP software vendor. This mentality places a focus on TGI to help our customers to meet both their short- and long-term business objectives. In addition to accessing TGI's highly skilled technical, business consulting, and project management staff, TGI customers have direct access and communication with TGI's executive leadership and senior management team. This involvement includes delivering consulting services, participating in onsite events, and simple phone conversations for guidance. It is this commitment to establishing lasting customer relationships and consistently delivering value that has led manufacturers and distributors to rely on TGI as their strategic business partner
and preferred ERP software vendor since the company was founded in 1990.