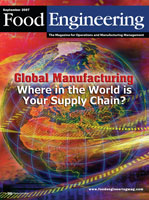 Tech Update: MES for the Little Guy
Still entering your production data on clipboards? Still hoarding away chart recorder output in shoeboxes? Still transferring your data into Microsoft Excel spreadsheets? Want to "upgrade" your manual system? Behold, the auditor stands at your door and knocks. Will you be ready? Read More...
Over the years, ERP software, traditionally steeped in accounting functionality, has been extending its functionality toward the plant floor, providing some or all of these capabilities.