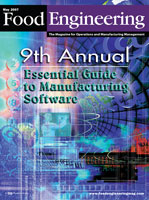 Forecasting Your Future
Consider these January 2007 events: cherry blossoms in Washington DC, cattle stranded in Colorado snow without food, oranges frozen on the tree in California. Now think ahead to Independence Day and next year's Super Bowl. While you may not be able to plan for events like the first three, you can plan for the up-tick in burgers on the Fourth of July and wing consumption in February. With the right forecasting and scheduling software, you'll be sure to process enough burgers for the Fourth and wings for next year's Super Bowl parties. Read More...
Forecasting and scheduling software are two modules usually found in enterprise resource planning (ERP) packages that help extend supply chain capabilities. Often these modules also exist in manufacturing execution systems (MES) used on the shop floor and, occasionally, as standalone packages. Whether the top-down approach (using ERP software) or the bottoms-up approach (using the shop-floor MES package extensions) will work the best has been an on-going discussion. Which route you pick should be chosen with a lot of forethought, research and involvement of key employees.