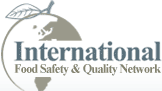 Bottom-line Benefits of ISO 22000
ISO 22000 is a new International Standard designed to ensure safe food supply chains worldwide. Food safety management systems define the requirements for any organization in the food chain, providing a framework of internationally harmonized requirements for the global marketplace. The standard was developed by experts from the food industry, along with representatives of specialized international organizations. Ultimately the new standard will make it easier for organizations worldwide to implement the HACCP (Hazard Analysis and Critical Control Point) system for food hygiene in an effective and efficient methodology, which does not vary with the country or food product. Read More...
Food reaches consumers via supply chains that link different types of organizations and across multiple borders. A single weak link can result in unsafe food that is dangerous to health; the hazards to consumers are serious and the cost to food chain suppliers always considerable. As food safety hazards enter the food chain at any stage, control throughout the supply chain is essential.