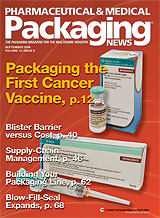 Looking into the Supply Chain
Drug firms confront a complex set of challenges in managing their supply chains. They are adopting solutions for streamlining business processes that also support the sharing of drug pedigree information for securing the supply chain. And firms are addressing the dual demands of improving transport efficiency and protecting temperature-sensitive drugs in cold-chain distribution. Many initiatives are tied to investments in technology to support demand-driven manufacture and supply processes.

Click to read the entire article.