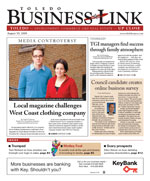 TGI Managers Find Success Through Family Atmosphere
A lot of people are bound to be happy when a company is poised to double revenue for three years straight while not requiring its employees to show up at the office. Read More...
Management is pleased with the growing profits. Business is good, so the customers must be impressed with the product. And the employees — well, they can work in their pajamas if they want.

Such is the success story of Toledo-based Technology Group International, a small company specializing in the development of enterprise resource planning software.

Started in 1990 by three local businessmen, TGI has performed more than 400 software installs across the U.S. and Canada, competing on a global scale against much larger companies, largely from its corporate office in the 6000 block of West Central Avenue. The company does not publish revenue figures, but officials say revenue has grown nearly 400 percent in recent years.