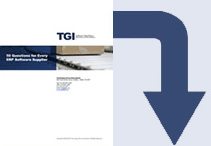 Fill out the form below to receive TGI's 50 Questions white paper
Searching for an ERP Software Provider but don't know where to start?
Download TGI's 50 Questions for Every ERP Software Supplier which include fifty must-ask questions that are critical to a successful ERP selection project. These questions are designed to give the ERP software selection team a better understanding of software vendors' general business philosophies, organizational longevity, approach to ERP implementation and customer support, annual maintenance fees, software upgrades, and more.
---
White Paper Excerpt
Do you provide a money-back guarantee or software acceptance period which will allow us to ensure that the software does everything that it was represented to do during the sales process? …
Do you outsource your ERP implementation services to third-party service providers, or do you deliver implementation services in-house? …
Are software upgrades and future software releases included in your annual maintenance fee? …
Are there any add-ons or bolt-ons our company has to purchase in addition to the proposed software solution to meet our functional requirements? Are the add-ons or bolt-ons developed by the same vendor as the core ERP solution or are they developed by a third-party? …
About TGI's Enterprise 21 ERP Software
TGI's Enterprise 21 ERP software is a fully-integrated ERP application for small and mid-market manufacturers and distributors. Enterprise 21 provides complete order management, inventory control, a warehouse management system, advanced forecasting and material requirements planning (MRP), procurement, manufacturing, CRM, machine maintenance, financial management, business intelligence, and e-Commerce in a single ERP solution.
Enterprise 21 ERP Manufacturing
Enterprise 21 ERP delivers superior manufacturing software functionality for process, discrete, and mixed-mode manufacturers across a variety of industries including food and beverage, chemicals, consumer packaged goods, building and construction products, medical products and devices, sporting goods, and high-tech and electrical components.
Enterprise 21 ERP for Wholesale Distribution
Enterprise 21 ERP provides a complete wholesale distribution software solution for distributors across a number of industries including food and beverage, chemicals, plumbing, HVAC, and PVF, consumer packaged goods, medical products, sporting and recreational goods, and building and construction products.